Navkar Enterprise ERP Solution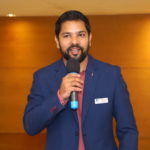 Is your organization facing these problems?
If the answers of above questions makes you worried about your organization future than NAVKAR ERP SOLUTION is the very first thing that you need right now.
ERP software integrates all systems so that every business function relies on a single database. With one source of information that contains accurate, real-time data, an ERP solution breaks up information logjams, helps staff make better decisions more quickly and frees up their time to work on more high-value exercises like helping the business grow even faster.
The pace of business is faster than ever before, which means employees across your company need immediate access to key data. With an NAVKAR ERP solution, executives can get a holistic view of business operations at any time, while other staff can get the information they need to do their jobs more effectively. For example, sales representatives should be able to view a customer's full transaction history and more proactively improve renewal rates while increasing upsell and cross-sell opportunities.
If it takes ages to consolidate or reconcile financial information across systems and through countless spreadsheets, NAVKAR ERP solution can make a significant impact. With all financials in a single database, accounting staff won't have to spend hour's cross-posting information, rekeying numbers, or reconciling data manually. Your accounting staff will be more productive, freeing them to deliver critical reports without delays and frustration.
With NAVKAR ERP staff in every department will have access to the same, up-to-the-minute information. Customer-facing reps should be able to answer customer's questions about order and shipping status, payment status, service issues, etc., without having to hang up the phone and check with another department.
Rather than adding more software—and complexity—to an already ineffective system, NAVKAR ERP technology can give you the agility to respond to changing business needs rapidly. That's why selecting a ERP provider like NAVKAR is critical. With NAVKAR ERP, system updates are no longer an issue, and new functions are easy to add as your business grows and changes.
Copyright © 2019-2020 Navkar Enterprise.
All Rights Reserved.